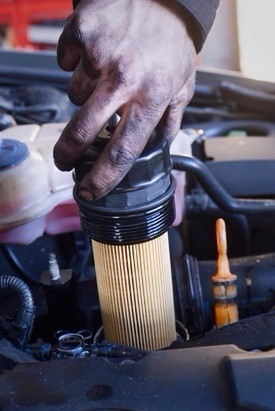 It is essential to keep up-to-date with regular maintenance on your vehicle. Most manufactures recommend a service every 10,000 - 12,000 miles or once a year. Some manufactures recommend a small, or interim, service every 6,000 miles or every alternative year.

The EC Block Exemption Regulation 1400/2002 now allows you to have your car serviced at a garage of your choice without invalidating the manufactures warranty as long as good quality parts are used. This helps to keep the cost of services down. We will, of course, if requested, use genuine parts on your vehicle.

We always recommend when having the oil drained to have the engine oil flushed first, this removes any dirt/carbon build up in the oil ways and piston rings, it also reduces engine noise and oil consumption. It improves compression which give the vehicle more performance. Regular engine flushes prolong the life of your engine.

We include a fuel treatment when changing the fuel filter on your car, this cleans out the fuel system including the injectors, valves, EGR valve all the way through to cleaning the catalyst in the exhaust on the way out! Regular fuel flushes help to keep your emissions low and can improve mpg.

We stock a range of Forte treatments and additives to help improve and clean different aspects of the running of your vehicle and can tailor make your service to include these if wanted.

Different vehicles require different parts/oil and different amounts of oil. Below is the average costs per service based on a semi-synthetic oil and what is included. If fully synthetic oil is needed this is quoted by the job as we order it in per vehicle. We can offer our interest free monthly payment plan to help spread the cost of maintaining your vehicle.
Please feel free to contact us to book in or for further advise and information.

Small Service
Usually around £100+VAT approx (send us your reg for an exact price) a small service take around an hour and includes: -

Check lights are operational
Check reflectors
Check mirrors
Check warning lights
Check number plates
Check horn
Check wipers and washers
Drain and replace oil
Fit new oil filter
Check for oil leaks
Check springs
Check all gaiters
Check all ball joints
Check all suspension components
Check all steering components
Check shock absorbers
Check wheel bearings
Visual check of brakes
Check clutch
Visual check of exhaust
Tyres checked for depth/condition
Tyre pressures checked and adjusted
Wheels torqued
Check all fluid levels and top up
Lubricate all door hinges
Check and lubricate bonnet
Check cambelt interval
Service book stamped
Service light reset
Full Service
Usually around £180+VAT approx (send us your reg for an exact price) a full service takes around 2 hours and includes all of the small service plus the following: -

Road wheels removed and brakes checked thoroughly
Brakes adjusted, cleaned and re-lubricated if needed
Handbrake checked and adjusted
Check battery
Top up battery if needed
Check aux belt
Check radiator
Check alternator
Check seat belts
Forte engine flush
Forte fuel treatment
Fuel filter checked/replaced
Pollen filter checked/replaced
Air filter checked/replaced
Spark plugs checked/replaced
Metal brake pipes checked and greased
MOT
Class 4 M.O.T.'s are £39.95 with a free re-test within 10 working days.

We do not have an M.O.T. bay on the premises at PNP Autofix but we work with a local M.O.T. station who we trust to test our own cars. Leave your car with us, we will take it to get tested and should your car not pass first time we will price up any work that needs doing and give you a quote.

Jordan is a fully qualified M.O.T. tester so he knows what to look out for, as part of our services we keep an eye out and advise for any work which may need doing to your car to get it through the next M.O.T.