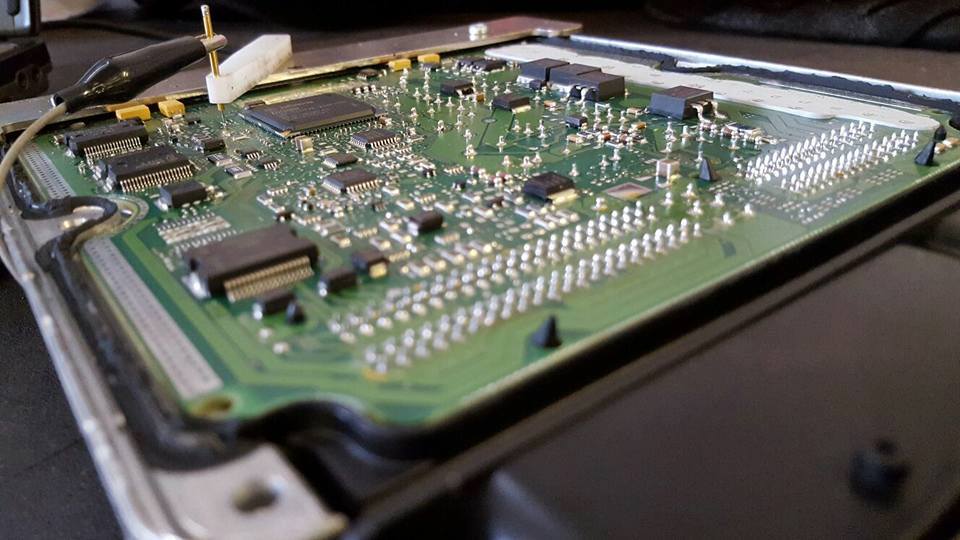 Manufacturers sell vehicles all over the world, because of this the ECU's are set to be able to tolorate poor fuel grades and different atmospheric conditions to prevent engine damage. This means that the ECU is not tuned specifically for the UK so therefore does not perform to the full potential of the vehicle.
Here at PNP Autofix we do not use generic maps, each map is designed specifically to your ECU, keeping it within the safe tolerances of your vehicle components. As we only tune from your ECU file it means you will not loose injector codes, cruise control, radio codes etc. Remapping is completely legal and carries no risk to your vehicle. As remapping gives your vehicle increased power we do advise you keep your vehicle regularly serviced as per your manufacturers guidelines. Although remaps are not easy to detect, just like any other modification, you should advise your insurance company.

We can offer both OBD and bench maps, this includes the latest EDC17 tricore. Duel maps on cars with a sports button are possible and means you can switch from an eco map (for better fuel) and a combined or power map for extra speed.

A remap is not all about the power, it can smooth out throttle response, remove flat spots and bring the turbo in earlier/later/for longer depending on the way you want the map to work for you.

We also offer EGR and DPF delete services, 2nd lambda delete service and speed limiter removal or install and DTC delete/removal service please contact us to find out more. Please note if fitted with an EGR or DPF your vehicle has to keep these to be road legal - if these are removed your vehicle become unfit for road use.

We can also tune to bring down emissions for the new 1.5% diesel emissions test.

With each remap we offer a free diagnostic check on your vehicle to check for any errors in the engine management before carrying out the map.

Most makes an models from 2001 onward can be remapped, generally petrol turbos or diesel turbos see the most gains. Our remaps start from just £180 plus VAT. For the biggest combination of noticeable gains, why not combine your remap with a carbon clean? We can also offer our interest free payment plan on all remaps which means they start from as little as £54 per month on the 4 month plan.
Not close by? We can also offer a postal service if you send us your ECU via recorded delivery, we can remap it an send it back to you (postage to be added to the final cost). Are you looking for a unlock service for PCR2.1 ECU's? We can unlock the ECU and send it back to you ready to be remapped via the OBD.

Contact us for more information or to book in or why not head over to our new website dedicated to all things remapping!
Economy Map
Designed to add optimum fuel efficiency plus a little bit of a power gain too making your car more environmentally friendly and saving you money on fuel.

With an economy map you can expect to see up to an extra 10mpg along with a 5-10% power gain.
Combined Map
This is our most popular map, a combined map will give you a bit more fuel economy whilst adding more power to your vehicle than the economy map.

With a combined map you can expect to see around an extra 5mpg whilst getting a 25-30% power gain making you really feel the difference to the way your vehicle performs.
Power Map
Our fastest map available, a power map will tune the power up to the safest maximum limits making it perfect for track days.

With a Power map you may loose fuel economy but this will give you up to 50% power gain. Please note with this map a disclaimer will need to be signed because it will take your vehicle to it's top limits. Your vehicle will need to be maintained regularly to keep your engine happy with this amount of extra power.
Has your ECU been corrupted? With our ECU repair service we can we can recover it and get it working again. If your ECU is damaged beyond repair we can offer a cloning service to copy your data onto a 2nd hand or virgin ECU prices start from £180.

Terms and Conditions
We warrant the remap software for 6months as long as it has not been tampered with and has not been back to the main dealer for a software update. No vehicle components, electrical or mechanical are warranted as we do not touch these and cannot guarantee their condition before you have the remap done. All customer's are given the chance to test drive their car before payment is taken and payment is taken under the agreement that the remap has met your requirements therefore no refunds are given. DPF/EGR deletes can be done but with these removed your vehicle will no longer be legally road worther and should be for track use only. You are responsible for notifying your insurance of your remap.